Like Ann, I am no longer a member of the Weird Tales staff. (I was the nonfiction editor and the webmaster.) Unlike her, my tenure did not last as long nor did I have much influence on the magazine. In other ways, though, since I worked for Wildside and with Stephen Segal during her tenure (and even before), I've felt like a member of the Weird Tales team — in a minor unofficial way — for just as long.
I also helped with tables selling WT at many conventions over the last few years. I was privileged to meet some contributors and talk to many readers and subscribers. "I can't afford them all," a customer might say, looking at the array of eye-catching Segal-designed covers. "Which do you recommend?" Or "Really, should I subscribe? Small press is so…iffy…but…" Or we might just chat about Weird Talesoverall.
I also got to hear, firsthand, how delighted folks were with the new look, the new approach to "weird", the whole "coolth" exuded by the most recent incarnation of the magazine. I know there were those who wanted the old "red W logo" and the older style of fiction…but enthusiasm is all I ever heard directly from readers. I recall one dealer complaining the new issues did not sell as well as the "red W logo"; it seems the collectors didn't want them. Well, wahoo! Who wants to be collected? No publication's value should gauged by the numbers of copies being slid, unopened, into a protective Mylar bag in hopes of accruing worth. The value of Weird Tales came from being read and enjoyed and influencing the genre. Under Ann and Stephen, it did just that.
I am a huge fan of the original pulp version of Weird Tales. Its true value came from being read and enjoyed and and not only influencing the genre, but creating several genres. What we all owe Farnsworth Wright who published H.P. Lovecraft, Robert E, Howard, Clark Ashton Smith, Seabury Quinn, and others is incalculable. Dorothy McIlwraith published the "young guns" of the day, including Ray Bradbury, Manly Wade Wellman, Fritz Leiber, Henry Kuttner, C. L. Moore, and Theodore Sturgeon.
Another innovation for a pulp magazine was WT's use of interior graphic art and atention to design. (This tradition was renewed and refreshed by Stephen and then continued by Mary Robinette Kowal.) The pulps as a whole paid little attention to illustration, but beginning in 1926, artists like Hugh Rankin, Vincent Napoli, Harold DeLay, the incredible Virgil Finlay, Hannes Bok, Harry Ferman, and Boris Dolgrov create indelibly weird images. Farnsworth Wright created a unique interior design for "the unique magazine" in a an era when layout (I think it was called "make-up") of such a magazine was rarely considered.
And then there was the cover art—most memorably that of Margaret Brundage. When I was assigned to do an article on her for the "Uncanny Beauty" issue, I felt I made a discovery. Outside of my personal feelings about her art, it seems everything ever written about Brundage's work was written by guys (yup, all males) viewing it through eyes clouded by youthful libidos and/or later prejudices both good and bad. Looking back at all of her covers, I felt I found a new way to appreciate her work. (You can download a PDF of that article, if you wish. Sorry, I think this version is minus proofreading, so forgive the errors!)
Just as with the stories, not all of the illustrations or covers were great. Some were downright bad, of course. But what we remember in the end is the good stuff. And that's what I will remember about my small role in the ongoing history of Weird Tales—the good stuff. (And if you'd like to know more about the past history of WT, read Robert Weinberg's The Weird Tales Story.
For the present history, thanks must go to to John Betancourt of Wildside who revived the magazine with George H. Scithers and Darrell Schweitzer in 1988, then re-revived it in 2005. Without his love of WT , his investment in it, and support of Stephen and Ann, there would never have been the chance to make it into the magazine it became.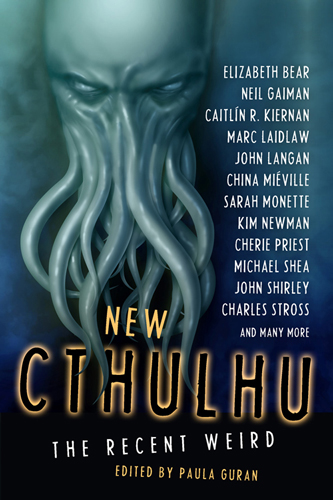 As for myself, like Ann, I'll still be involved in the weird in a variety of ways. One project of particular interest to you may be a forthcoming anthology: New Cthulhu: The Recent Weird. It presents some of the best of twenty-first century Lovecraftian fiction. (It's dedicated to Ann, by the way.)
Meanwhile, I look forward to the eventual publication of the last issue we put together—the book reviews may be a bit outdated, but, oh well—and offer my best wishes and hopes for success to Marvin Kaye and his partner. Marvin Kaye loves Weird Tales and I'm sure he will serve it well in his own fashion, just as we've all tried to do in ours.
If you are interested in keeping up with future weirdness from me, check the Prime Books site and sign up for the mailing list, RSS, and Twitter feed there.
Paula Guran